When I was 4, my parents divorced. My daddy was an alcoholic, but the state of Michigan gave him custody of me and my younger brother. He married my step mother and the fighting began. They argued and screamed and got physical. The physical abuse, to me and my brother, not to mention the verbal and emotional abuse, was overwhelming to a young boy. What helped us cope was being in touch with my grandmother, (daddy's mother) who lived in Kentucky. She sent letters and said how she loved us, "a of bushel and a peck". 
It got bad enough that the teacher and principal at school took me to the police station to report physical abuse, complete with marks on my back. The state then stepped in and decided I should be taken from the home and placed into a foster home. Which, for the experts in the child services division, was my step-grandparents home. However, the apple does not fall far from the tree and I went from the student's home to the teacher's home. Just a taste of what it was like included; eating paper till you puked, kneeling on dried beans till your knees bleed, switching your legs till they bled and bleeding from your busted lip.
After my saviors in the state decided they had fixed the problem, I was placed back into my parents home and circle was complete. It didn't take long for my daddy to realize that it was time to go. We packed a suitcase and boarded a Greyhound in Detroit bound for grandma's house in Leitchfield, KY. What a difference the love of God makes in a home. It didn't take long for God's plan to set in motion. Soon, Daddy was divorced from my step-mother, had re-dedicated his life to God and had re-married my mother.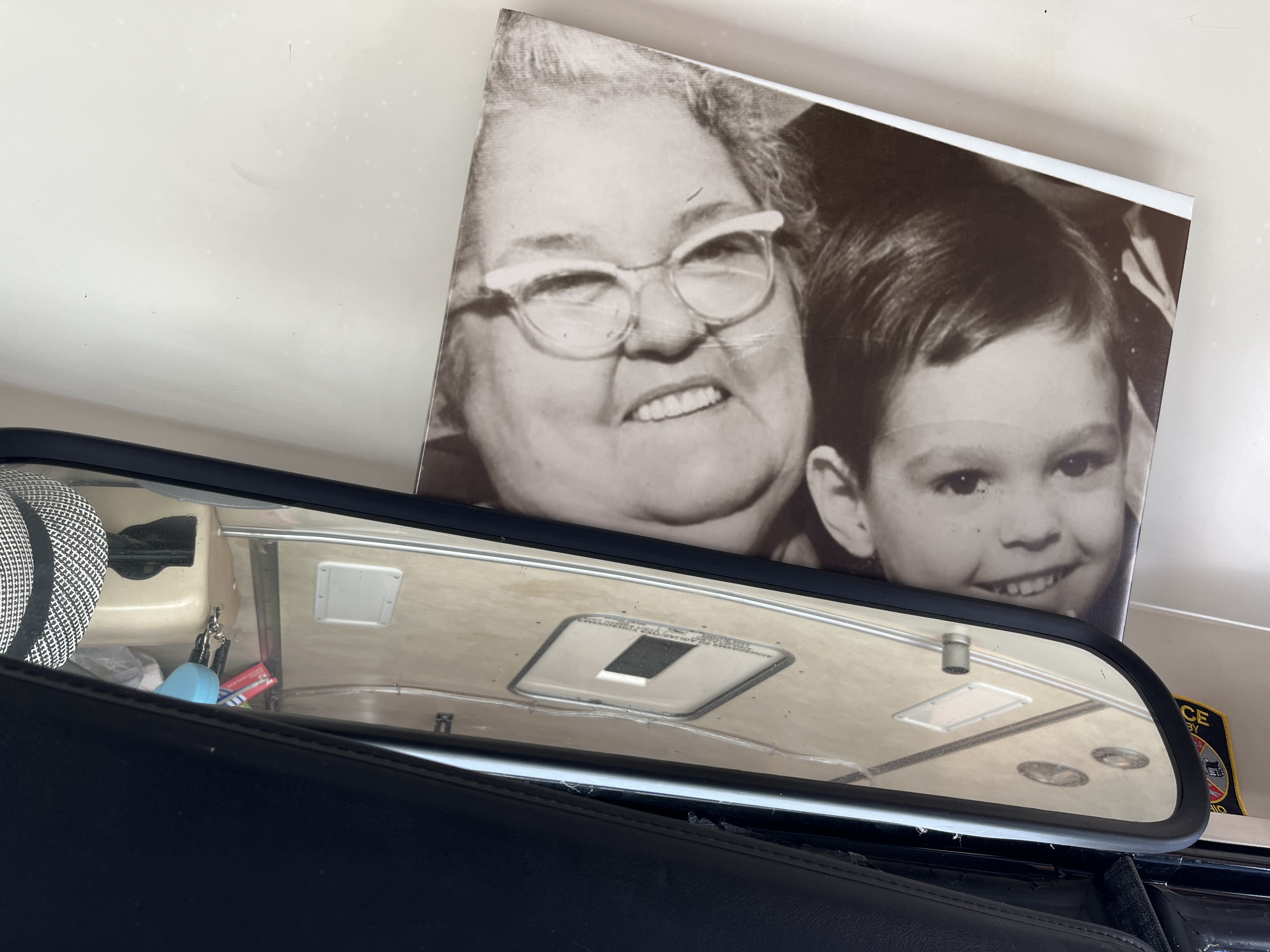 Grandma's living room was small and full of interesting collections. One was her collections was of Gospel music cassettes. A box that was chocked full of curiously unknown singers that I had never heard of. The Happy Goodman Family? Interesting. "They're reinforcing the stage", said the man, as the hammer banged on the stage. "We're in four automobiles and a pickup truck", one of them said. Then the lady said, "if your not a child of God, you can become one, while you sit here and listen to this". What? I'm not bound to be an alcoholic? I'm not going to prison or be someone destined to be a murderer or a child molester? Really? All those things I'd been told I was going to do or be, because of being physically, mentally and emotionally abused as a child, was NOT TRUE? I can be a child of God if I just ask?
So, when the preacher set the tent up across the street from Grandma's house (the very tent in the picture above) and began playing some of the same music that was on those cassettes, I was hooked. I was going to be a Gospel Singer, just like the Happy Goodman Family! Though, we were as poor as you can get, we had everything a child could want. We moved into an old farmhouse out in the country, next to an old tobacco barn. One day, I was searching for something to do. I found some tobacco sticks and some twine that they use to tie the tobacco leaves to the sticks to hang in the barn to dry. I took four sticks and made four microphone stands. I took the twine, that were cut into pieces about two feet long and tied them together to make microphone cords. I took two large cardboard boxes and made speakers. I then cut a long stick into four shorter sticks for microphones and nailed them to the top of my stands. There I was, the kid in the field next to the old farmhouse, singing to the top of his lungs. I didn't care who saw me. I didn't care who heard me (I'm sure the cows across the street enjoyed it). I had my Father, I had my Mother, I had my Brother, and I had my sound system, complete with stands. From that afternoon until dark, I WAS THE HAPPY GOODMAN FAMILY!
That was 43 years ago. Wow! Today I'm looking back on a wild ride that has taken me around the world to perform at The American Cathedral in Paris and into the GMA Gospel Music Hall of Fame. I've been given the wonderful opportunity to stand on stage with some of my greatest heroes; Brock and Fay Speer, Ronnie and Eric Hinson, Ed O'Neal, Bill Gaither, Guy Penrod and Tim Riley, just to name a few. God has been good to Dan Keeton. 
God has, many times, encouraged me to build a tobacco stick microphone and stand. I gathered a pile of tobacco sticks several years ago and laid them in the garage. That's where they have been for years. I was looking for something in the garage a few weeks ago and God said, "Hey Dan, look at that pile of tobacco sticks. Wonder what you could use them for". That's when I knew. So, after a few hours, I had a tobacco stick microphone stand, complete with a "WORKING" microphone. That's right! I have sung on it several times now. They might not remember my name or what I said or sung. But, they remember the guy…. sang on a "STICK".